Home
Take a Tour
Download
Register
What's New
Support
FAQ
Links
A Tour of EchoStation
Club Announcements and Bulletins
Run custom club announcements, advisories, or Amateur Radio news bulletins, using your PC, your 2-meter transceiver, and EchoStation!
Scheduling
You can schedule announcements to run on a daily, weekly, monthly, or one-time-only basis, and repeat your announcements at designated intervals throughout the day. You can also set up announcements to run on special schedules, such as the "third Wednesday in January" or the "25th of every month". A Scheduled Event Wizard makes it easy to set up.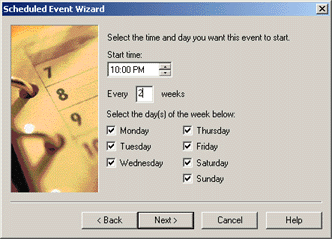 "Smart" Announcements
EchoStation listens on the frequency, and waits to play an announcement until it has been quiet for a while. This ensures that announcements do not interfere with regular repeater activity. For long announcements and bulletins, there's an Auto-Pause feature which pauses periodically and drops the carrier to allow a repeater's time-out timer to reset.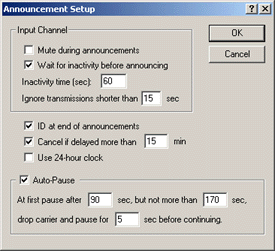 Continue the Tour... [Next Page]